The Sack of Twitter (2022)
Sunday, November 6, 2022
•
Greetings, travelers.
It's been almost a full year since I've written one of these.
In case you've forgotten, this is Errata Exist, a newsletter containing my thoughts on software development, self improvement, and anything else that catches my fancy.
Coincidentally, the weather is in about the same state as when I wrote the previous issue of this newsletter:
The weather has been ever-so-dreary here this week. This weekend, in particular, has really been exuding gloomy November vibes. SAD season is truly here.

This has left me with plenty of time to sit inside, drink tea, hack on various things, and ponder some of the finer things in life (like Church encoding).
Yesterday was a beautiful day, although perhaps not quite fitting for the season: sunny and 75ºF/24ºC.
This morning is decidedly more autumnal, with a crisper air, the scent of fresh rain, and a haze overhead that tints the world around it gray. It does create quite a stark contrast between the red and yellow leaves—many of which are still clinging to the trees—and the gray sky that silhouettes them.
Falling Back
Last night was the clock change, with us falling back to Eastern Standard Time (EST) during the night. Ideally we would get rid of daylight saving time entirely and just stay on standard time year-round. Unfortunately, it seems that the efforts to eliminate daylight saving time are insistent on taking the worse of the two options, that is, the one that would make it permanently Eastern Daylight Time (EDT) for me.
Perhaps the only upside to EDT is that it makes doing conversions to China Standard Time easier, as it's always exactly twelve hours ahead.
The Sack of Twitter (2022)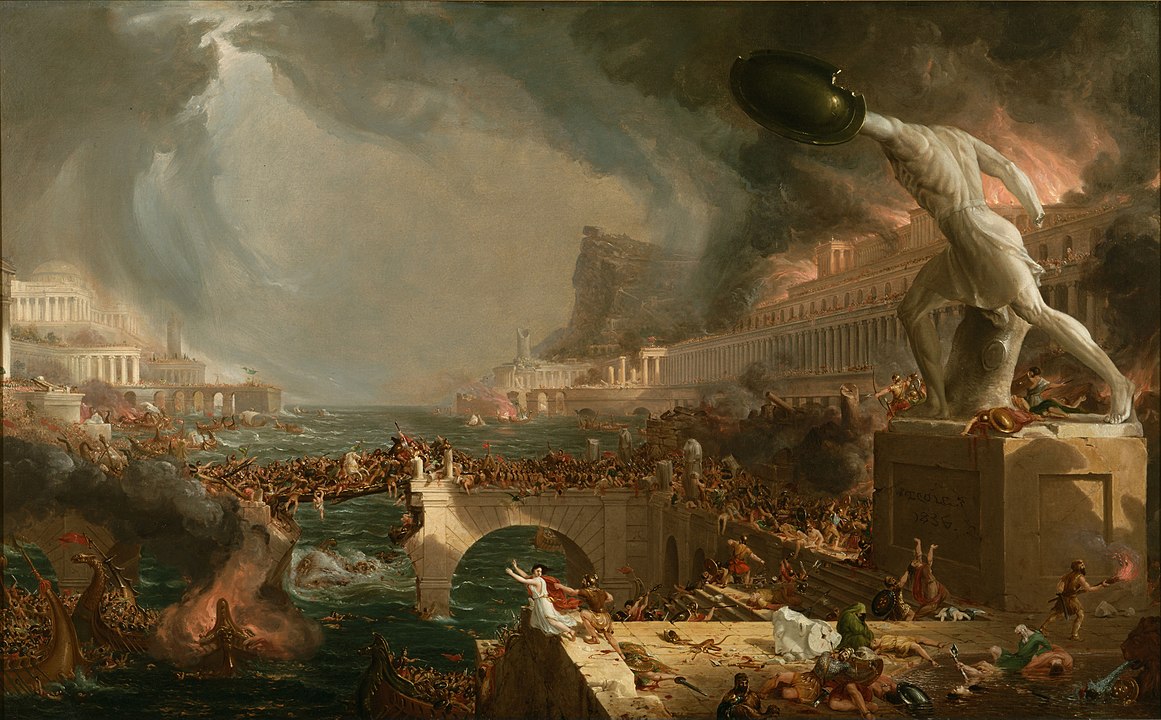 The Course of Empire: Destruction by Thomas Cole
Over the past week I've watched in horror at the happenings over at Twitter HQ after Elon Musk took control. It is, perhaps, the textbook definition of a "tire fire".
While not intended to be a complete recounting of all that has transpired thus far, here are some key events:
We've seen an estimated 50% of the staff laid off, including the entire accessibility team
The folks remaining have had to crunch on shipping a revamp to the "verified" checkmarks, with some even sleeping in their offices over the weekend
Mastodon has seen a surge in account creation as people jump ship or make preparations to
As far as social networking sites go, Twitter has been a constant for me. I've had my account since 2009 and have amassed 51.3k tweets (the majority of which are retweets) over that time.
With the likes of Tumblr, Instagram, and Facebook all having descended into barren wastelands, Twitter has been the last major stronghold of my social media usage. With that stronghold now being sacked, it begs the question "what now?"
Many of the people I follow have been jumping ship to Mastodon and/or Cohost. I already have accounts on both platforms and as I've seen folks link to their accounts in my Twitter timeline I've been following them on other platforms.
For my part, I haven't dropped Twitter entirely yet, but am prepared to do so at a moment's notice. I've already exported my Twitter archive and backed my tweets up.
One thing that I've noticed is that I don't feel the same amount of excitement for Mastodon or Cohost that I've felt with Twitter. It may just be that Twitter is familiar and the blank slate of a new platform is scary. Or maybe it's something else?
As I've been exploring this feeling over the past week, it's occurred to me that my usage of Twitter may just be on autopilot. This is, perhaps, best exemplified by my tweet to retweet ratio. So much of my Twitter usage is just retweeting things from other accounts, something that is incredibly consumptive and requires minimal brain power on my part.
Rather than immediately finding some other platform to fill the space that Twitter may leave in its wake, this is my chance to take a step back and re-evaluate what it is I want to get out of being on these platforms.
I'd like to take this opportunity to focus more on writing on my site as well as this newsletter.
In Other News
This past week I celebrated my two-year anniversary at WorkOS, and I wrote down some thoughts on the journey so far.
---
That's all for now!
I look forward to writing again soon,
Marshall